2023 KIRCF SOLEMN ASSEMBLY
"RETURNING TO GOD"
As we enter into the week of our personal and corporate time of spiritual consecration in prayer and fasting, here are some facts about fasting.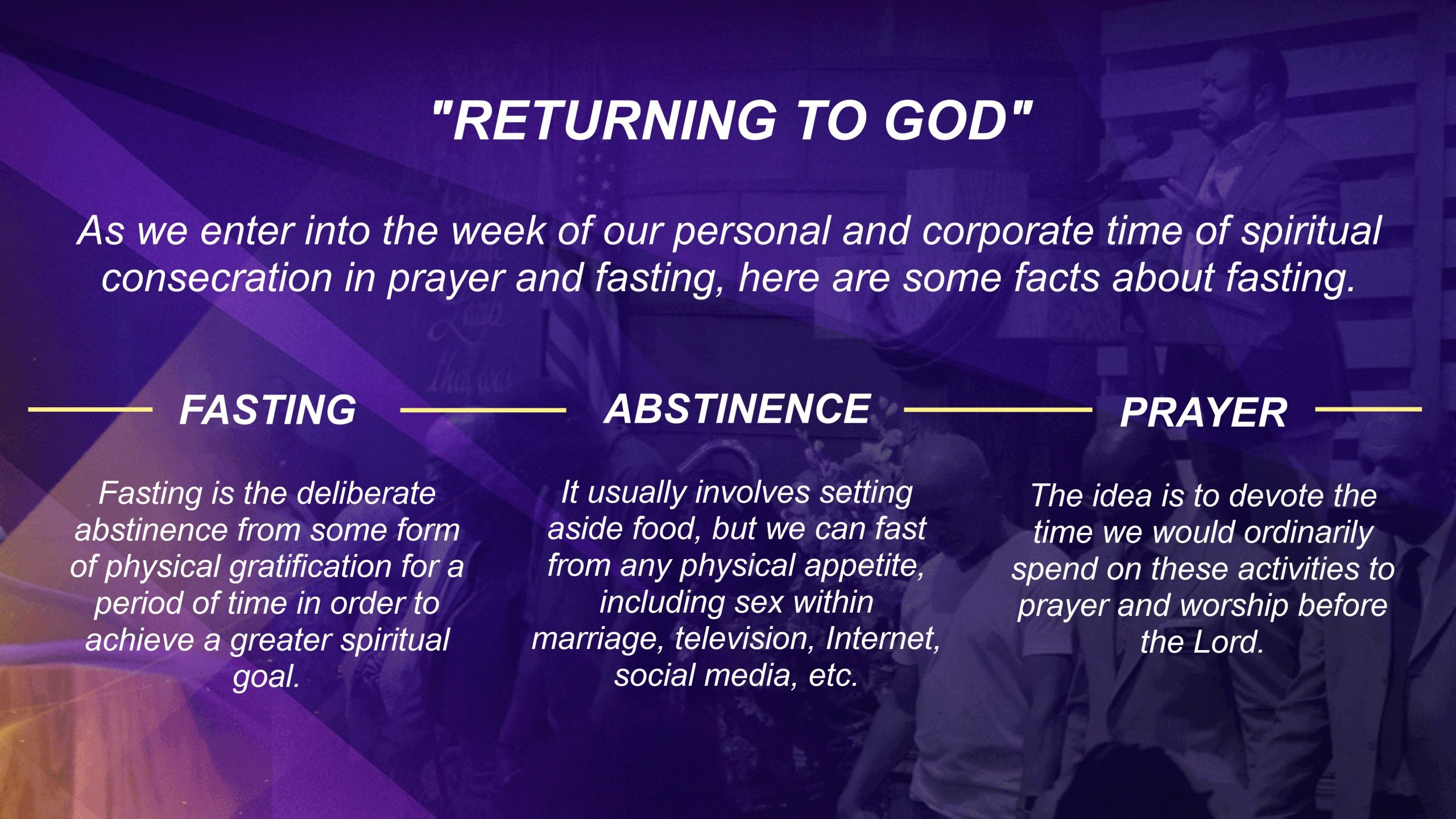 SCRIPTURAL ELEMENTS OF FASTING & PRAYER
HUMILITY
Then I proclaimed a fast . . . that we might humble ourselves before our God, to seek from Him.
– Ezra 8:21
PRAYER
So we fasted and petitioned our God about this, and he answered our prayer.
– Ezra 8:23 
PRAISE & WORSHIP
They sat there before the Lord and fasted that day until evening and offered burnt offerings and peace offerings before the Lord.
– Judges 20:26
ABSTINENCE
Let neither man nor beast, herd nor flock, taste anything. Let them not feed or drink water . . . and let them call out mightily to God.
– Jonah 3:7-8
Solemn Assembly 2023
FASTING is a tremendous spiritual tool given to us by the Lord. It is a powerful weapon that, when utilized properly, helps to break and destroy debilitating yokes that have been devised to shackle and hamper God's people.
Fasting, the great partner of prayer, is a spiritual aid God uses to deliver us from self-centeredness and self-mindedness. Fasting helps us become Christ-centered and Christ-minded. It, combined with prayer, allows us remove the hindrances, and to see and embrace all that the Lord has designed for us.
Consider the following – Fasting is a spiritual practice, outlined in both the Old and New Testament and read the following passages linked here: Isaiah 58 and Matthew 6:16-18
Fasting is a spiritual tool utilized by those greatly used of God such as Moses, David, Esther, Daniel, Paul, and Jesus Christ Himself.
Fasting is a denial of one thing, in order to be open to and to receive another. Fasting involves abstinence, but fasting is not simply a denial. Properly practiced, it is a denial of the flesh in order to liberate and enhance the spirit. Someone has described it as eating a nut. You must crack open the hard outer shell to eat and enjoy the tender fruit.
The Bible describes various types or categories of fasts:
Regular Fast: abstaining from all food, solid or liquid, but not from water. o This type is described in Luke 4:2 as Jesus was in the wilderness and afterward was hungry.

Absolute Fast: abstaining from all food and water. o This type of fast is described in Ezra 9, Ezra 10; Esther 4:16 o By Moses in Deuteronomy 9:9, 9:18; and Exodus 34:28; and Paul in Acts 9:9

Partial Fast: abstaining from certain foods. This type is described in Daniel chapter 1 and in Daniel chapter 10.
7 – DAY DEVOTIONAL
7 – DAY DANIEL FAST
MEAL PLAN IDEAS download here.
| APPROVED FOODS | FOODS TO AVOID |
| --- | --- |
| ALL VEGETABLES AND FRUITS: fresh, dried, juiced, frozen, dehydrated or canned. | At a minimum avoid meats and desserts. However, if you want to give up more foods, see the list of food items below. |
| ALL WHOLE GRAINS: amaranth, brown rice, whole-grain pasta, quinoa, whole wheat, barley, whole-grain tortillas, popcorn, millet, oats, kamut/khorasan wheat, teff, etc. | MEAT AND ANIMAL PRODUCTS: chicken, lamb, pork, beef, fish, seafood, etc. |
| ALL BEANS AND LEGUMES (canned or dried): chickpeas, black beans, pinto beans, lentils, Great Northern, kidney beans, black-eyed peas, cannellini beans, etc. | DAIRY AND EGG PRODUCTS: milk, cheese, butter, cream, eggs, mayo etc. |
| ALL NUTS AND SEEDS: cashews, almonds, walnuts, chia seeds, flax seeds, pistachios, pecans, pumpkin seeds, etc. | SWEETENERS: sugar, honey, agave, syrups, molasses, cane sugar, etc. |
| SELECT BEVERAGES: natural fruit juices (no sugar or corn syrup), spring water, distilled water, and unsweetened sparkling water. | LEAVENED BREAD: baked goods and breads made with honey and yeast |
| ALL QUALITY OILS: olive, grapeseed, peanut, sesame. | DEEP-FRIED FOODS: potato chips, French fries, corn chips, etc. |
| OTHERS: tofu, tempeh, vinegar, seasonings, herbs, and spices. | SOLID FATS: shortening, margarine, lard, etc. |
|   | SOME BEVERAGES: coffee, tea, carbonated drinks, energy drinks, alcohol, teas, juices with added sugars and flavoring, kombucha, etc. |